A new bill in Washington State would designate sasquatch as the official cryptid of the evergreen state, listing Bigfoot next to the common Olympic Marmot and Walla Walla Sweet Onion.
WashingtonBigfoot.com supports the bill, that was created by Republican Senator Anne Rivers of the 18th District. The 18th District is in South Western Washington and is most of Clark County, minus Vancouver, WA.
The bill promotes the exploitation of bigfoot and labeling the creature a 'cryptid' would be prohibitive in proving the existence of bigfoot at a later date.
1 AN ACT Relating to designating Sasquatch the official cryptid or
2 crypto-animal of Washington; adding a new section to chapter 1.20
RCW; and creating a new section.3
4 BE IT ENACTED BY THE LEGISLATURE OF THE STATE OF WASHINGTON:
5 NEW SECTION. Sec. 1. The legislature recognizes that Sasquatch
6 has made immeasurable contributions to Washington state's cultural
7 heritage and ecosystem. The state of Washington further recognizes
8 the importance of preserving the legacy of Sasquatch.
9 NEW SECTION. Sec. 2. A new section is added to chapter 1.20 RCW
to read as follows:10
11 The species of cryptid commonly called "Sasquatch" or "Bigfoot"
12 or "Forest Yeti" is hereby designated as the official cryptid of the
state of Washington.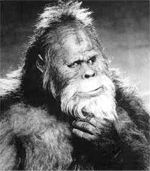 We urge Olympia to not continue with support of this bill.
Please follow and like us: